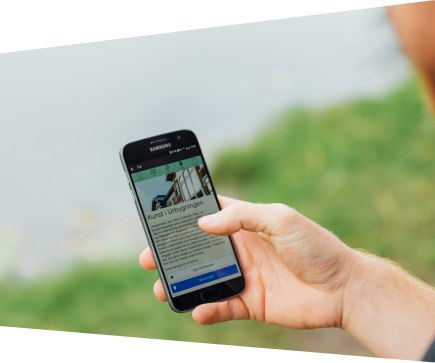 Case: Discover the Xplore Park app and engage children to explore science
We have developed an application that you can use to go on discovery trips in the park area on Campus Ås outside of Oslo. You can find zoological secrets in the park and discover all the edible plants on Campus Ås. With support from the research community on Campus Ås, we have developed an application so that we can digitally convey the landscape, animal and plant life, architecture and the art that surrounds us every day.
Case: Sustainability game. Engaging people in the UN´s sustainability goals
The sustainability game works in such a way that the players get a hint in form of a picture and a text, then they have to guess which of the UN's 17 sustainability goals it is hinted at. The players then cooperate by pulling on the 4 ropes and hoisting the Sustainability Cube on top of the goal area which they think is the correct answer. The target area communicates with the app and tells if there was a correct or incorrect answer. The administrator has the option to enter "Hint image & text", correct answer text and incorrect answer text for each task, and thus define what the players see whether they answer correctly or incorrectly.
Get a free Trial